Are you looking for WhatsApp Alternatives?
WhatsApp has become the most essential part of our daily life. It releases some of the other features at regular intervals in order to ensure WhatsApp remains at the top for all. With the growing number of WhatsApp users, there has been growing concern regarding the WhatsApp Privacy Policy.
The recent changes in the privacy policy have made people angry as well as cautious. This has led to users looking for its alternatives.
So what are the WhatsApp alternatives that you are going to choose from? Which app would you prefer over WhatsApp? There is a lot of WhatsApp alternatives and it is not going to be easy to figure the best one out.
14 WhatsApp Alternatives Apps You Can Use in 2021
Telegram
Signal App
Wire
iMessage
Google Messages
Viber
Discord
Bridgefy
Kik
Snapchat
Skype
Keybase
Threema
Line
The WhatsApp alternatives are listed below along with their detailed knowledge regarding its features and privacy.
Telegram
Telegram is considered the most trusted and worthy WhatsApp alternatives. Large scale and limitless file sharing is the major advantage of Telegram. 2GB free file sharing feature is available on Telegram.
WhatsApp on the other hand has put a limit on the file size you can send or receive. In secret chats, Telegram offers end-to-end encryption which ensures that only the receiver and the sender can read the messages. Telegram does not have access to secret chats as they are not stored in the Telegram cloud.
Telegram can sync messages across all devices and cost absolutely nothing. The group limit is almost set to 200,000 people in a single group which is huge.
RELATED: Signal vs Telegram – A Detailed Comparison
Signal App
The Signal is currently one of the alternatives that people have been looking for. The Signal app strikes a balance between privacy and fun. Signal messages are end-to-end encrypted with open source code. Hence Signal server stores only the information whether someone is using its services or not.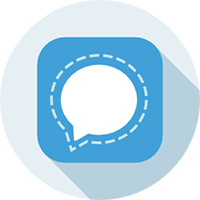 The phone numbers entered at the time of the registration are transmitted anonymously. The Signal app supports text messaging, voice, video, and group calls. Signal also has a self-destructed feature. Signal supports video chats between eight members only.
RELATED: How to Download & Install Signal App Step-by-Step?
Wire
The Wire is another WhatsApp alternatives founded in 2014. Since a lot of people are unaware of the messaging service there are currently very few users. Wire does not allow access to messages. For example, if you start a conversation on your smartphone then you will not have access to that conversation on your PC.
Wire lets you chat via voice, text, and video. It also supports things like GIFs, file sharing, and other stuff similar to WhatsApp. Voice calls up to 25 participants and video calls up to 12 participants are end-to-end encrypted. To sign up for Wire, you need to provide a phone number as well as an email address.
iMessage
This WhatsApp alternative is beneficial to only iPhone or Mac users. The messages in the iMessage are backed in your iCloud. Unless someone has access to your iCloud your messages are secured. You can even send messages to non iMessage users.
Like other apps iMessage too supports images, GIFs, video, and group calls. Some countries even allow money transfers using Apple Pay. FaceTime works by doing video and voice calls to Apple users. iMessage and FaceTime are not a single communication. They are separate apps that come built-in all iPhone and Mac devices.
Google Messages
Google Message is an answer for iMessage. Just like iPhone and Mac users have iMessage, Android users have Google Messages. Just like WhatsApp, Google Messages too are end-to-end encrypted.
You can also send images and files as it was done in WhatsApp. Google Message does not have Voice and Video calling features because it has another app named Google Duo which helps you with it.
Just like iMessage and FaceTime are the two separate apps for iPhone users, Google Message and Google Duo are two separate apps for Android users.
Viber
Viber is more popular than Telegram. Viber chats too are end-to-end encrypted. The feature which makes Viber stand out more than WhatsApp is the Viber Out feature. Viber Out feature lets you make international calls to non-Viber users at a nominal rate.
Viber like others supports features like file sharing, last seen, voice and video messages, backup to Google Drive, stickers, etc.
There are built-in games in Viber that you can play. Viber has 260 million active daily users with most of the contribution coming from Africa, Europe, and the Middle East.
Discord
Discord started its journey as a game chat platform, but it evolved much more. Discord is a server-based messaging application. Discord is used for private messaging, group chats, media sharing, emojis, emotes, GIFs, documents, etc.
Up to 10 friends can be added to a group for group chat. For using Discord you do not need to provide a phone number or even your real name.
Discord too has a multi-platform feature that works for both smartphones as well as desktops.
RELATED: 30 Discord Shortcuts in case you don't know them
Bridgefy
The one thing that is most important in WhatsApp is to have an internet connection. Without an internet connection, there is nothing you can really do on WhatsApp. While sending or receiving normal text messages too aren't possible if you do not have a network.
That is the time when we remember the offline messaging application. Bridgefy is one of the offline messaging applications that does not require a mobile network or an internet connection to work.
Bridgefy will create a Wi-Fi-Direct-based network or Bluetooth network on your device to allow you to send messages to nearby contacts. There are three types of messaging service that Bridgefy offers:
Person-to-Person mode
Broadcast Mode
Mesh Mode
All these modes are helpful during festive, sports events, disasters, or in situations where you do not have service.
Kik
Many users are not comfortable sharing their numbers on these platforms. Kik is a great messaging application that requires you to share your Email ID. Kik will create a username for you to share with your Kik users.
Kik provides you with features like text messages, emojis, stickers, GIFs, photo sharing, video sharing, and group chats. With bots, you play quizzes, get fashion tips, the latest news, etc. Kik has over 240 million active users.
Snapchat
Snapchat is more of a social media app and not a messaging app. In Snapchat, you can self-destruct messages after a set period of time. Snapchat notifies you when someone takes a screenshot of your chat. With Snapchat, you can group chat, voice call, send and receive GIFs, and much more.
Skype
Keeping no doubt in mind, Skype is the best business chat application. Skype is useful to make overseas calls as the sound and video quality of Skype is far better than its competitors. If you are a group video call person then I would prefer Skype over WhatsApp to make tons of calls to friends and family.
Skype has over 300 million active daily users. Spammers are the only disadvantage that Skype lacks. Spammers can send you direct messages.
Keybase
Keybase is an open-source chat application. The data is end-to-end encrypted so that at no point your messages are exposed. You cannot take screenshots of the chats in this application. To start with Keybase you do not need anyone's number or Email ID to connect.
Threema
Concerned about security on WhatsApp, then Threema is an open-source and the most secured messaging application. Being open-source the privacy policy is very transparent.
Threema offers encryption to all data, messages, files, and even status. Threema lacks voice and video call features. The most important drawback is that Threema is not available for free like many other WhatsApp alternatives.
Line
The Line has 200 million active daily users. Another WhatsApp alternatives are Line. The Line is the most popular cross-platform messaging application. Like WhatsApp, LINE offers end-to-end encryption for messages, voice as well as video calls.
The timeline feature lets you see status updates and photo changes from your friends. Line Out and Keep are the two unique features that differentiate it from WhatsApp. Line out feature lets you make international calls to non-line users and Keep lets you save your favorite messages, photos, etc.
Conclusion:
From all the above WhatsApp alternatives, the biggest drawback for all is the low user rate. You have got your time to convince your friends and colleagues to switch to any of the above alternatives. Try these alternatives and let us know about your favorite alternative in the comment section below.
READ NEXT: